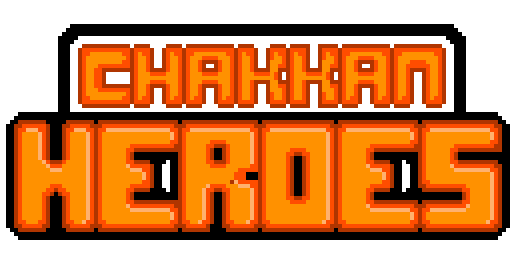 Chakkan Heroes
A downloadable game for Windows
Puzzle under development
This is Chakkan's first game which aims to introduce gamers to the Chakkan universe.
As you may notice, this game is still under development and your participation is key to imrpove in every aspect.

How to Play
Move with arrow keys to select a starting position.
Press the "enter" key to get into "path mode".
Use the arrow keys once more to create a path of 5 blocks.
Once you create the path, press enter to get the points from the blocks on your path.
Repeat till you clear the whole grid (or take an "END" block).
The more blocks of the same color that you get in your path will add more points to the score. The max score you can get in a path is 25, by taking 5 blocks of the same color.
When you finish a path, the blocks within it become "cleared blocks". You can make a path across these too, but they will take score from you. 5 cleared blocks will take 25 points from your score.
Planned features
This is just the basic concept of the game, but there are more things to come, which may (or nawt) include the following:
Unlockables. Characters, music, themes, stories and more original content will be available. Wondering what the accumulated score and blocks were for? Now you know.
Leveling. Part of the idea of this game is to use some RPG features, such as leveling up and using skills. It takes time to do this, but it would add more complexity to the game.
Additional content. No, I don't plan on selling pointless DLC. This game is an introduction to a whole universe (or maybe more). Chakkan aims to create characters, stories and related digital content such as comics or videos.
SUPPORT CHAKKAN
This is a free game and it is intended to remain that way. However, making games is no game at all. Production requires time, effort, passion and a lot of food. If you enjoy what Chakkan offers, any donation you could give to the project will be appreciated.
Follow Chakkan
Facebook: https://www.facebook.com/ChakkanOrg/
Steam Greenlight: http://steamcommunity.com/sharedfiles/filedetails/?id=821156522
Blog: http://www.chakkan.org/
There you can see announcements, information and participate to make the game and Chakkan grow.
Download
Click download now to get access to the following files:
chakkan-heroes-win.zip
9 MB