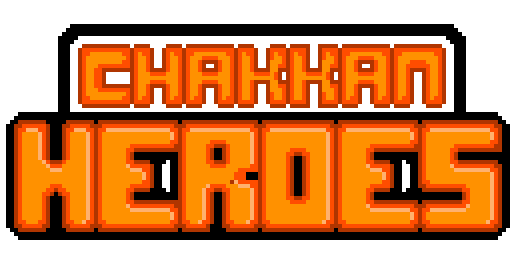 Chakkan Heroes
A downloadable game for Windows
Puzzle under development
This is Chakkan's first game which aims to introduce gamers to the Chakkan universe.
As you may notice, this game is still under development and your participation is key to improve the game in every aspect.

How to Play
Move with arrow keys to select a starting position.
Press the "enter" key to star making a "path".
Use the arrow keys to create a path of 5 blocks.
Once you create the path, press enter again to finish your path and clear the blocks on it.
Repeat until you clear the whole grid (or take an "empty block").
The objective is to clear the whole grid by achieving the highest score possible.
Only color blocks specified by the "valid block" will count as points in your score. The valid block is displayed at the right side of the screen.
"Cleared blocks", the ones with black hearths, will take twice as many points from your score compared to the points given by color blocks.
The "empty blocks" have no hearth. If you get one in your path, the game will end.
Special thanks
I'd like to personally thank to a talented artist and friend of mine that worked with part of the pixel art, Aliz.
You can find her on facebook: https://www.facebook.com/AlizRubi23/
Take a look at her website and get ready to love her art!
Planned features
This is just the basic concept of the game, but there are more things to come, which may (or nawt) include the following:
Skills. This will be the RPG part of the game. Once the whole game is functional, the idea is to allow certain skills to be learned and used by different characters.
Unlockables. Stories of the characters, game themes, pieces of soundtrack. It all requires time now as the unlocking system is already implemented.
Additional content. No, I don't plan on selling pointless DLC. This game is an introduction to a whole universe (or maybe more). Chakkan aims to create characters, stories and related digital content such as comics or videos.
SUPPORT CHAKKAN
This is a free game and it is intended to remain that way. However, making games is no game at all. Production requires time, effort, passion and a lots of food. If you enjoy what Chakkan offers, any donation you could give to the project will be appreciated.
Follow Chakkan
Facebook: https://www.facebook.com/ChakkanOrg/
Steam Greenlight: http://steamcommunity.com/sharedfiles/filedetails/?id=821156522
Blog: http://www.chakkan.org/
There you can see announcements, information and participate to make the game and Chakkan grow.
Download
Click download now to get access to the following files:
chakkan-heroes-win.zip
9 MB