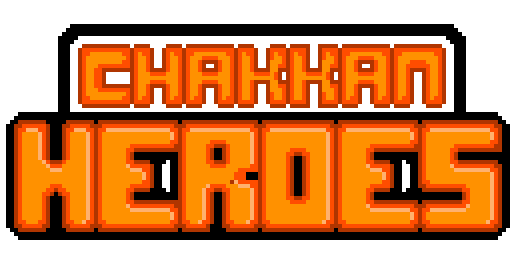 Chakkan Heroes
Time to level up!
It's been a while now, but I am still alive.
First I'll give some late thanks to a friend of mine who helped me with the pixel art of the first character that was on the game since earlier versions. She is Aliz Rubí. Make sure to take a look at her stuff! Concept artist, illustrator and she turned out to be a great pixel artist.
Back to the business, this update focuses on gameplay and the actual functionality of everything available. The graphics had a few changes as well as the whole concept of the game. This will hopefully be for good as now the rules of the game make more sense, aiming to help the player feel more "in control" of what it's done.
As the title implies, the main addition in this update is the level up system. Pretty simple, but it works. The unlock system is also implemented now. However, there is nothing to unlock yet. That may be part of the next update, as well as some other animation. Speaking of which, take a look at the new main menu.
I really wish that people with the game enjoy this new version and will thank any comment
New rules
-Clear the whole grid by making paths of 5 blocks.

-Only the color blocks requested by the game will count as points in the score.

-Select a starting position for your path with the arrow keys.
-Press the Enter key to start a path.
-Move with the arrow keys to make a path. (must be 5 blocks)
-Press enter again to finish the path and clear the blocks on it.
-Beware of black hearth blocks as each of them take more points from your score than what you get from color blocks. (twice as many points actually)
-The game ends when you empty the grid of color blocks or when you get one empty block (without hearth) on your path.
Updates
-New rules and concept changes. (explained above)
-Main Menu is now animated when the game starts.
-Changed the empty, cleared and color block designs.
-Level up system: Each level up means you get more points from color blocks and cleared blocks take more points from your score.
-Unlockables: Implementation is ready to go for both characters and other elements that will be unlockable. All unlockables appear as "unavailable" at the current time and show only the name and requirements in a text balloon.
-Block/Score/High Score: This was already implemented but now it makes more sense. Block shows the number of blocks cleared from all the games. Score works for the level up system and the unlockables. High Score display the highest score achieved with the selected character.
-Added the "valid block. This shows the player which color block will count as points in the score.
-Added score effects. Simple effect that shows the points given or taken by a block when cleared.
Files
chakkan-heroes-win.zip
9 MB