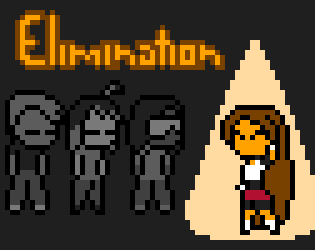 Elimination
A downloadable game for Windows
Family friendly russian roulette!
Have fun with friends and family in this couch multiplayer game. Choose the number of players (or teams) and test your luck to see who is the last one standing.
But there's a small twist. Who cares about order or setting the turns equally. In this games players decide who goes next. So get ready for ruined friendships and nervous laughs.
TEST YOUR LUCK!
PLAY WITH FRIENDS!
HAVE FUN!
Additional info
The game is up and working, with little to no possibilities of crashing or bugging. Then why is "in development"? That's because the game currently has only one playable mode of a total of five that are planned: hit mode, star mode, time bomb mode and zombie mode.
Also, there may be some extra updates in terms of graphics or game balancing. You know, just making things 100% random isn't always the best.
Make sure to play other games of Chakkan, most of them for free. One of the goals of Chakkan is to allow players to have fun with other people, to keep in mind that games are meant to be fun and not always complex.
Download
Click download now to get access to the following files: